This is Izumozaki!
Izumozaki is located around the center of Niigata Prefecture,
facing the Sea of Japan.
It has a coastline of about 10 km.
The town has fine views with the sea and mountains
and is selected as No. 1 among Niigata's top 100 scenic spots.
This is the historic town where Ryokan was born,
Basho expressed his admiration in his poem,
the Edo Shogunate ruled over and controlled the town,
and the modern petroleum industry in Japan was born.
It produces the largest number of paper balloons in Japan.
You can enjoy good food and gourmet cuisine
in a land blessed with nature.
The sun setting in the Sea of Japan is undoubtedly the best part.
Who was Ryokan?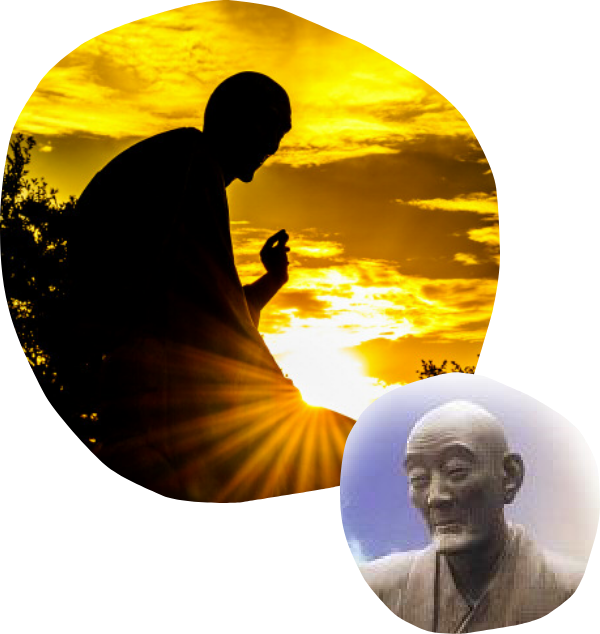 Ryokan(1758~1831)
Ryokan, a Zen monk in the late Edo period also known as a poet and calligrapher, was born in Izumozaki, Echigo. Ryokan was his ordinary name as a monk. His pen name was Taigu. His childhood name was Eizo Yamamoto and he was named Fumitaka when he had his coming-of-age ceremony at the age of 15.
He was indifferent to worldly gain, never managed an entire temple during his life, was trusted by people and worked hard to enlighten people. Ryokan did not give difficult sermons to people but showed them his frugal life and preached Buddhist teachings in an easy-to-understand manner to ordinary people using simple words and aphorisms. This attitude gained the empathy and trust of the general public and people in all walks of life. Ryokan interpreted that "the innocent heart of a child is the heart of the true Buddha." He loved children and played with them. He tended to refuse calligraphy requests from famous people, but when asked by a child to write on a kite, he happily did so.
Although he was a priest of a strict Zen sect, he liked sake and frequently drank sake with people who adored him, which is another way Ryokan appealed to people. He was not confined by being a monk.
Ryokan, who loved all living things, interacted equally with the young and old, the rich and poor, and always believed in human decency; he still creates empathy in many people today.
Anecdotes (Quoted from Toshiro Tanikawa's "Anecdotes of Ryokan")
Bamboo shoot
One spring day, a bamboo shoot growing under the lavatory roof beside Gogo-an Hermitage was about to reach the roof.
Ryokan, feeling sorry for the bamboo shoot, lit a candle and tried to make a hole in the roof, but he mistakenly burned the whole lavatory down.
Hide-and-seek
One day, Ryokan played hide-and-seek with some children. Ryokan became it; he closed his eyes and waited for the children to say, "We are ready."
However, the children went home silently, one by one, because it was near dusk.
Eventually, none remained. The next morning, when the children came back, Ryokan was squatting with the same appearance as yesterday, still covering his face with both hands.
Supernal Big Wind
After Ryokan finished begging and accepting charity in the town of Tsubane, he went on to the bank of the Nakanokuchi River to find children flying kites.
As he was watching them, one child came to him and asked, "Please write Supernal Big Wind on this piece of paper."
Ryokan asked, "What for?" The child answered, "I want to make it into a kite."
Ryokan was delighted to help the child and wrote the words.
Related facility
Ryokan Memorial Hall
Built in 1965 in commemoration of the 200th anniversary of the birth of Ryokan after collecting extensive donations.
Ryokan's calligraphy, relics and literature are exhibited in the hall.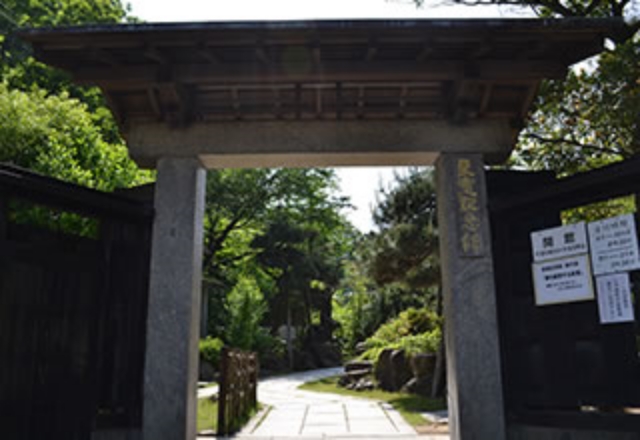 [Contact] TEL:0258-78-2370 
FAX : 0258-78-4748
[URL] http://www.ryokan-kinenkan.jp/
[Admission fees]
Adults \400 
High school students \200 
Elementary and junior high students \100 /
Groups (20 people or more) Adults \300 
High school students \150 
Elementary and junior high students \70
[Open] 9:00-17:00
[Closed] Open every day from April – October
Closed on Wednesdays from November – March (If Wednesday falls on a national holiday, the next day is closed)
Closed in observance of the New Year (Closed December 29 – January 3)
Ryokan and Yuhino Oka Park
The park is situated in a great location, facing Sado Island, the hometown of Ryokan's mother, with Mt. Yahiko on the right and Ryokan-do House below, overlooking the Tsumairi townscape.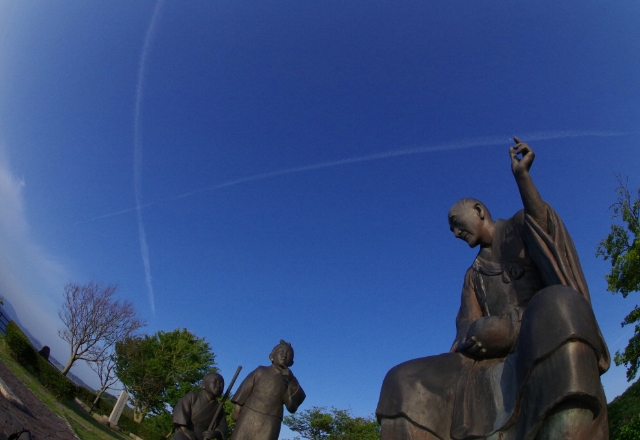 Ryokan-do House
This house was built on the site of Tachibaya, the house where Ryokan was born, to honor his virtue and remember him. The house then was twice the size of the present precincts.
A public restroom is available. A snow shed is built in the winter.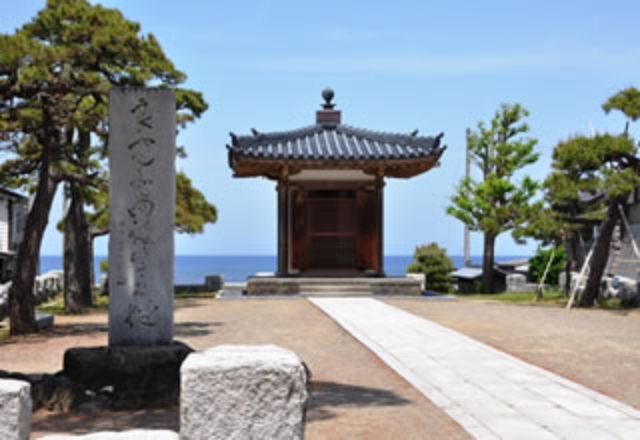 Kosho-ji Temple
Ryokan had his head shaved at the age of 18 at Kosho-ji Temple. He practiced Zen for four years here before going to Entsu-ji Temple in Bichu Tamashima for Zen training.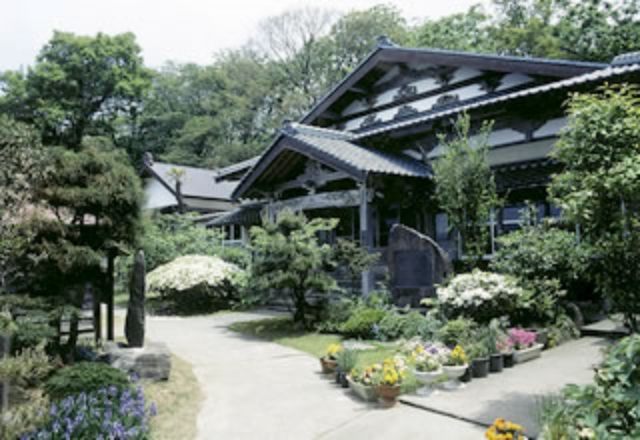 [Contact] TEL:0258-78-3010 FAX:0258-78-3019
[Open] 8:00-17:00
[Closed] Closed in observance of the New Year.
[Note] People can visit the grounds freely. (Reservations required for guides)
Sightseeing
Kitamae cargo ship -Japan Heritage Certification
The story of "Another World Spun by the Dreams of Men Who Crossed the Rough Seas – Kitamae Ship's Calling Port and the Shipowner Village-" brought Japan Heritage certificates to a total of 38 municipalities after 11 municipalities lead by Sakata City, Yamagata Prefecture applied in April 2017.
On January 25, 2019, people from the certified municipalities submitted an application for a change to the Agency for Cultural Affairs. As a result, 7 municipalities including Izumozaki Town and 60 constituent cultural properties (8 of them are in Izumozaki) were added to the certificate on May 20.
Constituent cultural properties
Tsumairi houses
Townscape of Izumozaki, which flourished as a port of call for Kitamae cargo ships and for unloading gold and silver from Sado Island.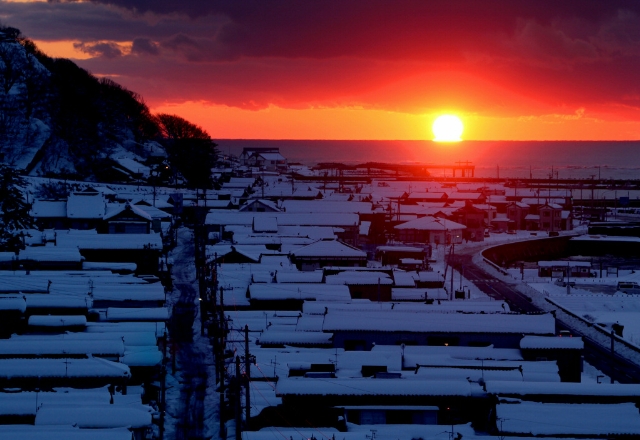 Former wholesaler at the port
This was the residence of the Sano family, a wholesaler and shipping agent that made a fortune from Kitamae cargo ships. The dock and warehouse still remain.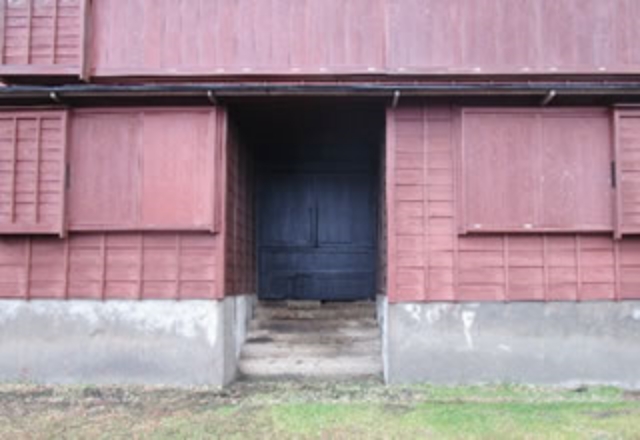 Votive boat tablets)
(Haguro Shrine, Narutaki Shrine, Kosho-ji Temple)
Votive boat tablets dedicated by the Kitamae cargo ship owners praying for safe navigation.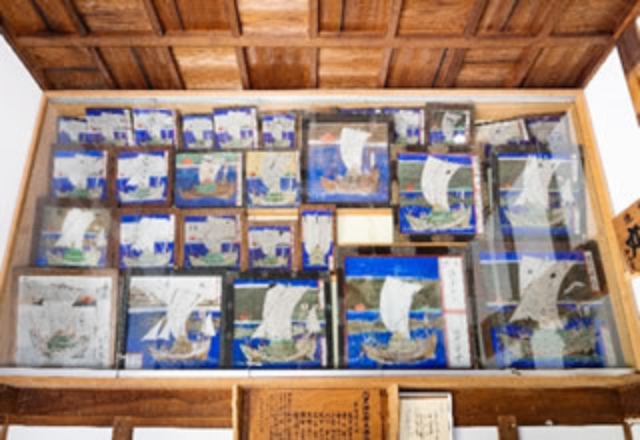 Stern flag
A stern flag handed down in the Yagi family, a shipping agent.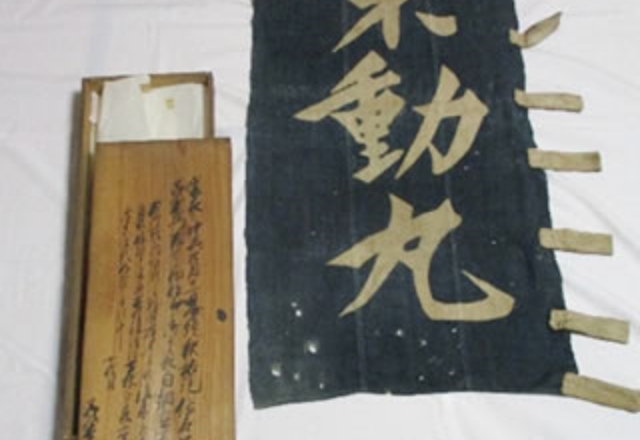 Kitamae cargo ship collections in Izumozaki Imperial Demesne Historical Hall
In addition to documents from Tsuruga-ya and Kumagi-ya, who were two wealthy merchant families, there are many materials related to Kitamae cargo ships such as a ship model, ship identification cards, a Buddhist altar and a four-claw anchor.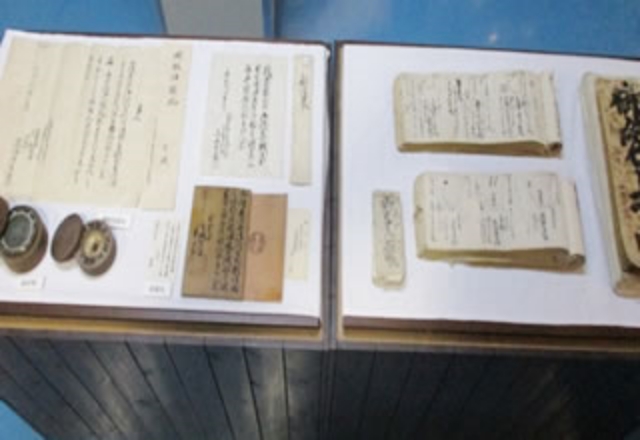 Izumozaki folk song
A folk song that fused a local song and a song of Ushibuka Town, Kyushu that was brought by a Kitamae cargo ship.
Click here to listen to the folk song.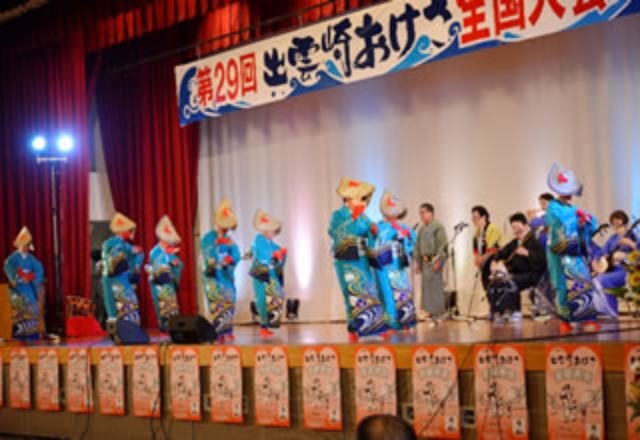 Boat song
A folk song sung at a celebration when a Kitamae cargo ship was newly built.
Click here to listen to the folk song.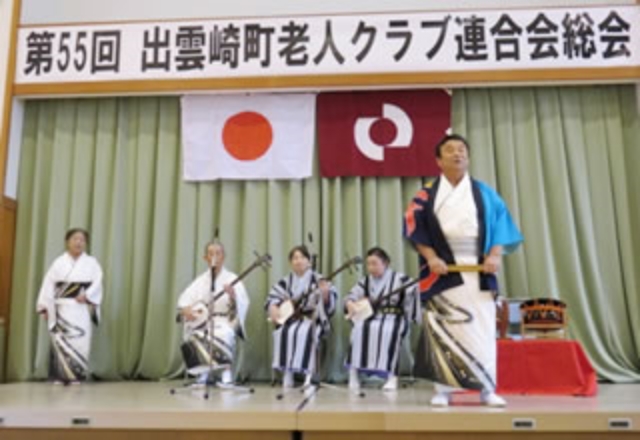 Mooring stone
A stone that connected the rope of the ship when a Kitamae cargo ship moored.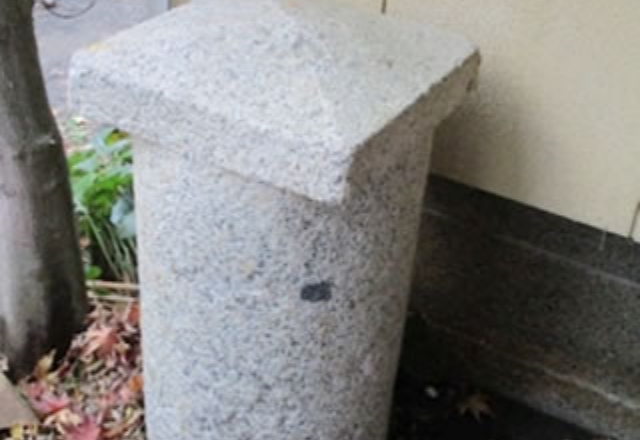 Tsumairi houses
Tsumairi house
Izumozaki, which was under the direct control of the Tokugawa Shogunate (imperial demesne), flourished as a port for unloading gold and silver from Sado Island, a port of call for Kitamae cargo ships and a post town on the Hokkoku Highway during the Edo period.
The population at the time was about 20,000 on a small flat ground surrounded by low hills and the Sea of Japan.
The population density was the highest in Echigo. In order for the people to live, and also because houses with wide frontages were taxed, people built Tsumairi houses with narrow frontages of about 6 meters that extended for a long way behind the narrow frontages. These houses created the townscape that continues for about 4 km.
Hokkoku Highway Tsumairi Hall
The hall reproduces the traditional layout of a Tsumairi house, serving as a place for tourists to rest and interact with each other.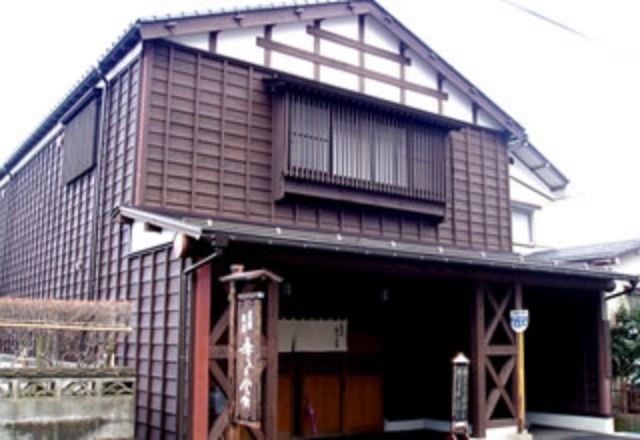 [Contact] TEL:0258-78-3700
[Open] 8:30-17:30
[Closed] Closed in observance of the New Year
Basho-en Garden
In 1689, Basho stopped at Izumozaki on his journey of the Narrow Road to the Deep North and wrote a well-known poem: "The Milky Way lies over Sado Island across the rough sea."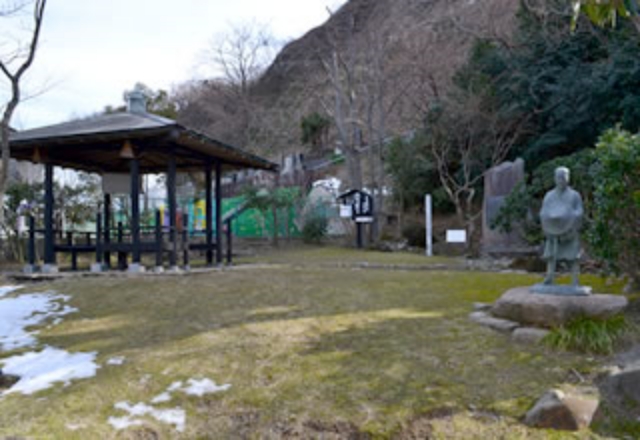 The gorgeous time of imperial demesne
and oil-well drilling
History
In 1616, Izumozaki became an imperial demesne directly controlled by the shogunate, and a high government office made with 70 thousand stones was placed here first in the Echigo area.
It worked as a port to unload gold and silver from Sado Island which supported the finances of the Edo Shogunate. Izumozaki is also the birthplace of the modern Japanese petroleum industry and is famous for having successfully drilled oil mechanically for the first time in Japan.
Izumozaki Imperial Demesne Historical Hall
Here you can time travel over 300 years back to the gorgeous imperial demesne period.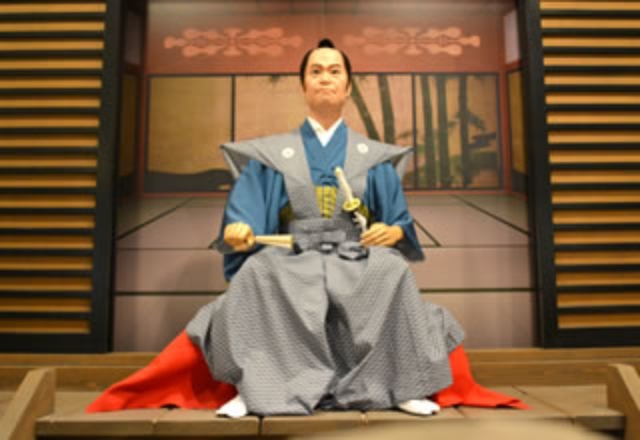 [Contact] TEL:0258-78-4000 
FAX:0258-78-4770
[Closed] 1st Wednesday of each month(Open every day in May and August),
Closed in observance of the New Year
[URL] http://www.shidax.co.jp/tenryo/index.html
[Open] 9:00-17:00
[Admission Fees]
Adults \500 
Elementary and junior high students \400
Groups (20 people or more) Adults \400 
Elementary and junior high students \300
[Note]Paper balloon making lesson : About 30 minutes \200/person (Reservations required),
Haiku poem box (You can freely contribute)
Izumozaki Petroleum Museum
Izumozaki Petroleum Museum displays the transition from the ancient oil discovery to modern rotary drilling.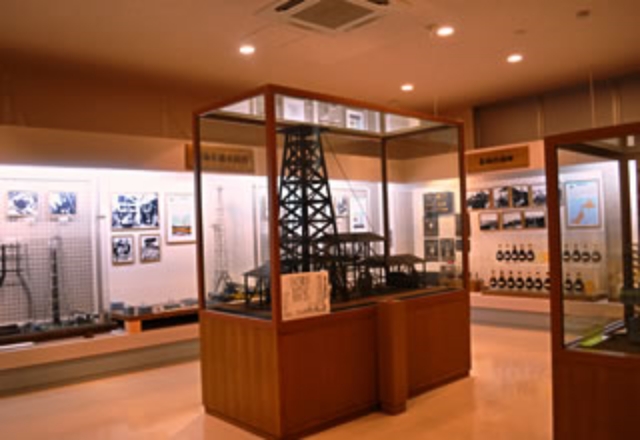 Taste of Izumozaki
Local cuisine
Rice cooked with turbos, a Japanese shellfish
This dish won the 2013 International Local Gourmet Grand Prix!
Rice cooked with turbos, which boast of a stable catch in Izumozaki.
Turbos with a good texture and the tasty kelp soup stock with a scent of the sea go well with Koshihikari rice.
(Achieved two crowns: 1st place in the General Section and another 1st in the Traditional Local Gourmet Section)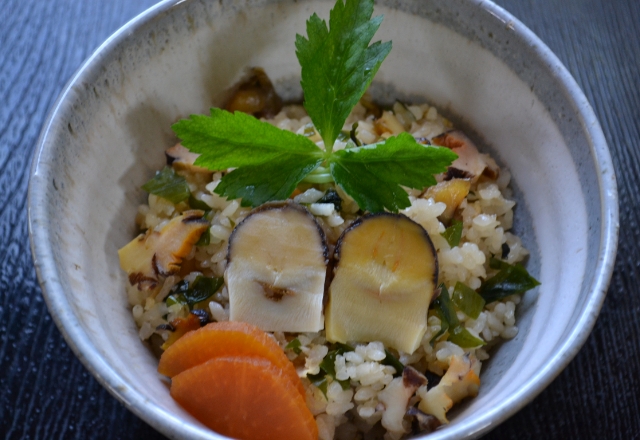 [Contact] The Chamber of Commerce and Industry of Izumozaki Town 
TEL : 0258-78-2064
Cod soup
Cod soup is a local cuisine that has been eaten for many generations in Izumozaki, which has long been an excellent fishing ground for cod.
There is a record that describes cod soup dedicated to the third Tokugawa Shogunate Shogun.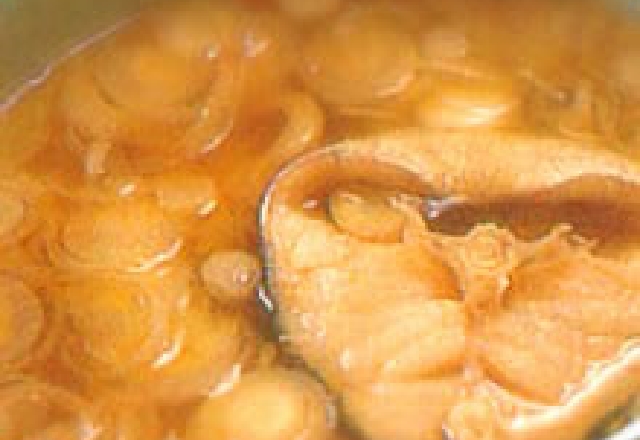 [Contact] Izumozaki Town Tourist Association 
TEL : 0258-78-2291
Skewered broiled fresh fish
People originally started to broil fish to preserve the fish that were caught abundantly.
The fish diligently roasted over white charcoal are then further cooked using an infrared grill, creating the condensed good taste and fragrance.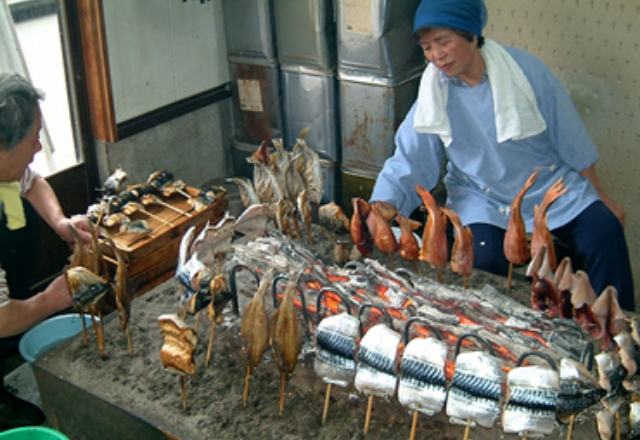 [Contact]
Isoda Fresh Fish Store 
TEL : 0258-78-2578
Ishii Fresh Fish Store 
TEL : 0258-78-2025
Yamasho Kondo Fresh Fish Store 
TEL : 0258-78-3859
Specialties
Paper balloons -Keeping the ancient tradition of Japan
Izumozaki Town has been making paper balloons since 1919.
The coastal area flourished as a trading area with Sado Island in addition to fishing in the Sea of Japan. The paper balloon business was a valuable source of income in winter for many townspeople as a job to replace fishing when the sea was rough and as the handiwork of fishermen's wives. Nowadays most of the balloons are made in this old production town.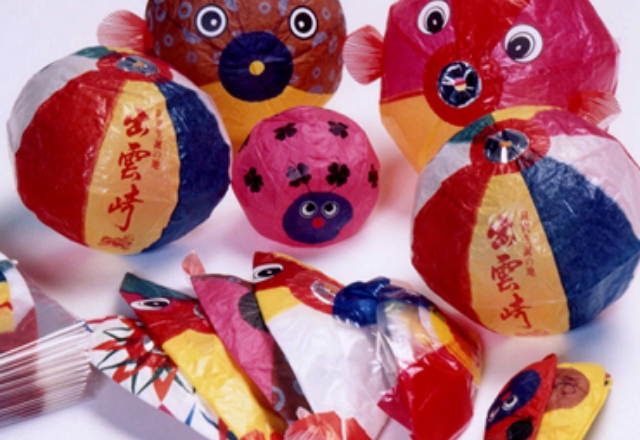 [Contact] Isono Paper Balloon Factory 
TEL : 0258-78-2045
Event・Festival
Izumozaki Grand Festival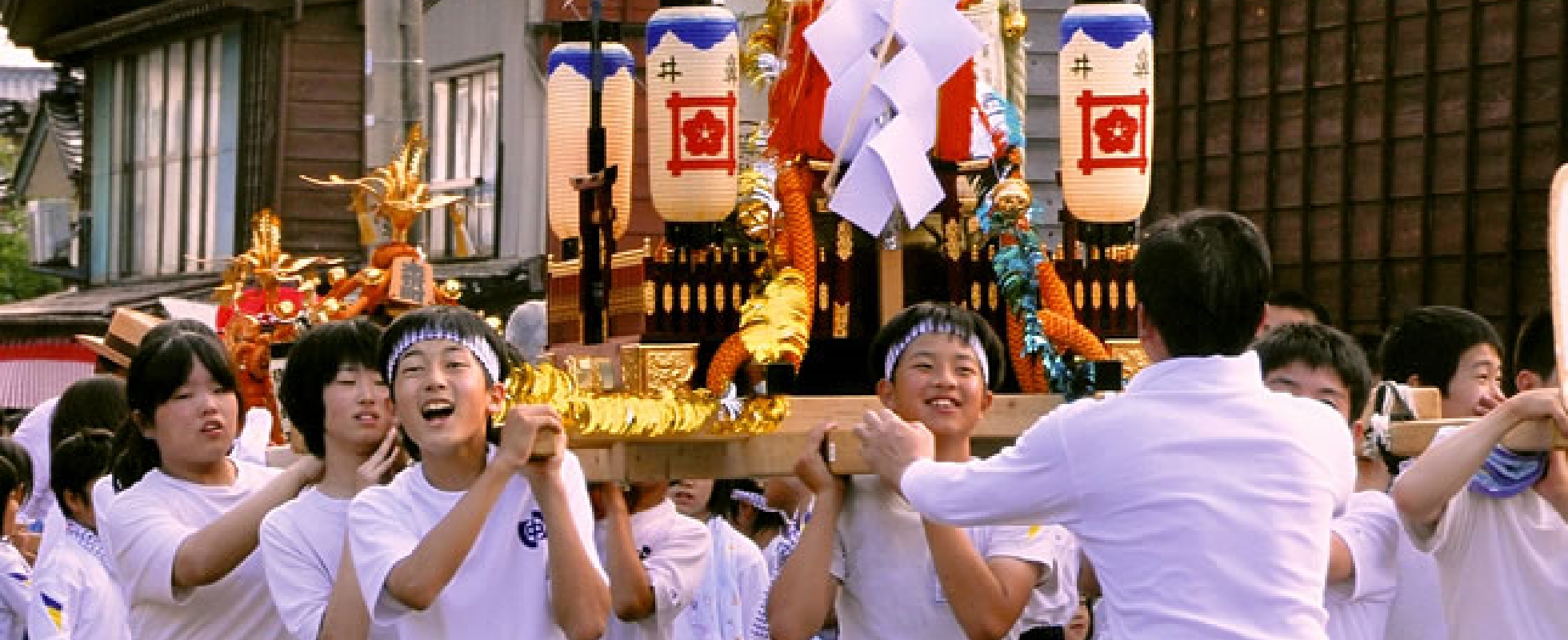 This festival was a Shinto ritual of Ishii Shrine. The festival was started by the Tachibanaya Yamamoto family, which was the family that Ryokan was born into, in 1690 to pray for marine safety.
The procession is simultaneously solemn and gorgeous, combining the old daimyo and ritual styles. It is a festival full of taste with more than 50 food and other stalls along the roadside.
[Date] June 17 every year
[Time] 14:00 – Portable shrine parade (Starts at Ryokon-do House)
[Place] Coastal area of Izumozaki Town (Between stalls in Ishii Town and Haguro Town)
[Contact] Izumozaki Town Industrial Tourism Section 
TEL:0258-78-2291
Boat festival and fireworks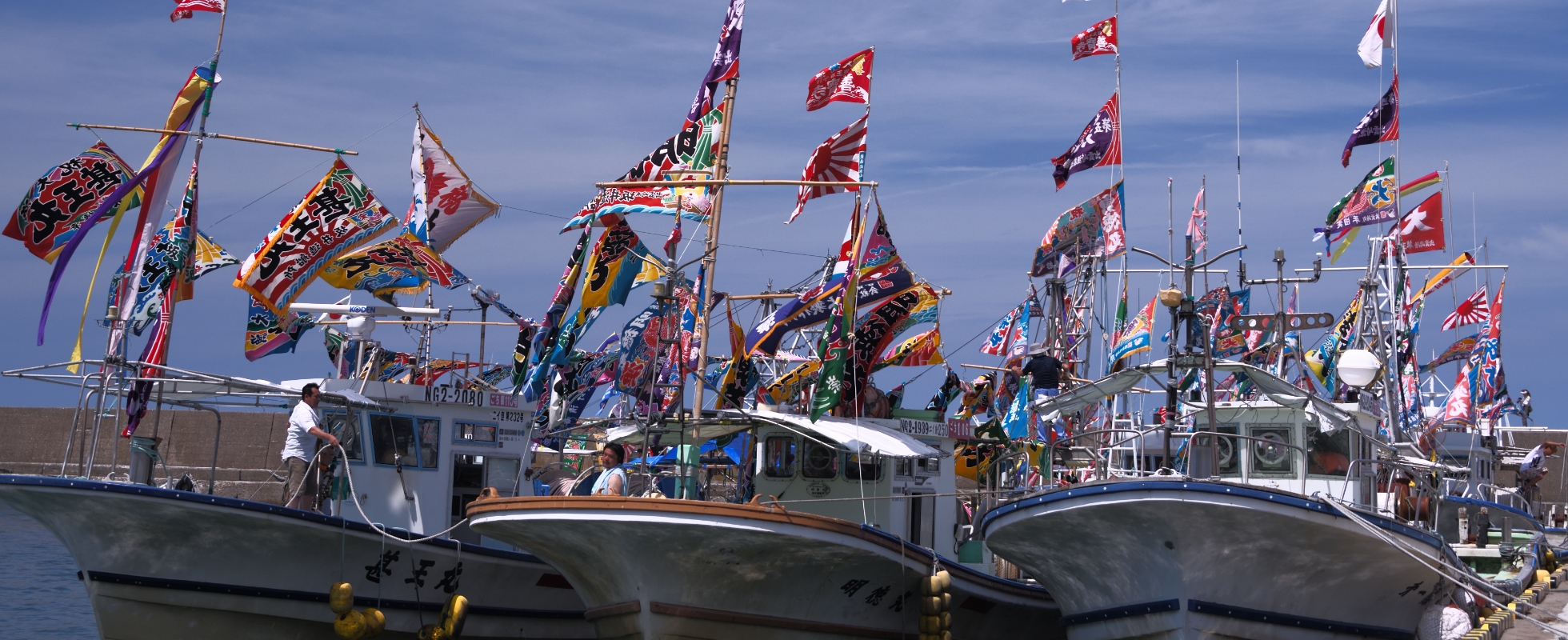 This festival has been held since 1952 to pray for large hauls, maritime safety and the unity of fishermen.
The main event is the Marine Fleet Parade where over 20 fishing boats sail waving big fishing flags. People can board the boats free of charge (First come first served till the maximum number of people have boarded).
The night ends with a grand fireworks display. You can make good summer memories.
Please come and see.
[Date] August 15 every year
[Events] Marine fleet parade, fireworks, etc
[Place] Izumozaki Fishing Port
[Contact] Supporters' Association of Izumozaki Town Boat Festival 
TEL:0258-78-2291
Lion dance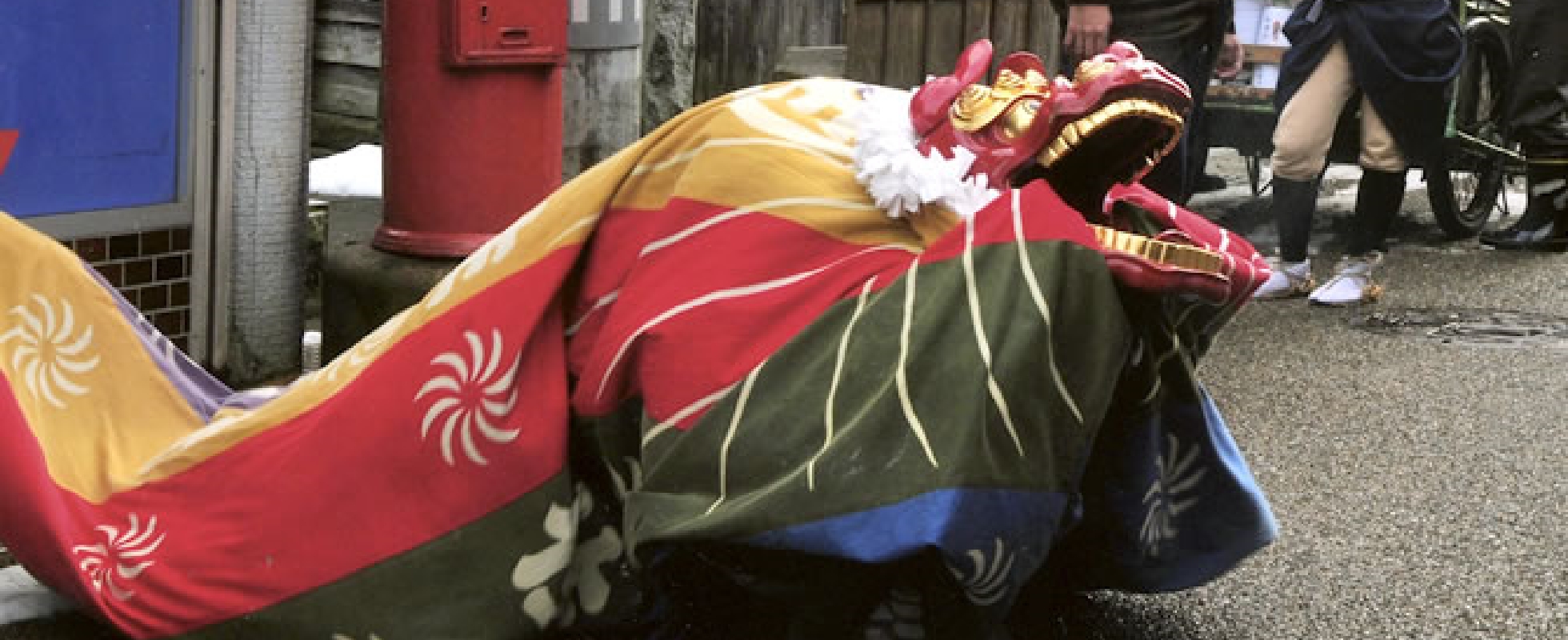 This is a traditional New Year event of Izumozaki Town that has been held since the middle of the Edo period. Every year, on January 2 and 3, high-spirited lions carried by young people from shrines in the neighborhood bravely make their rounds of the Tsumairi houses one by one, exorcising evil spirits accompanied by drums, flutes and conchs.
Candy Lion with a golden head and a loudly dyed tail appears on the 11th of January.
[Date] 2nd, 3rd, 11th and 15th of January every year
[Time] Time varies according to each neighborhood in Izumozaki Town
[Place] Each neighborhood in Izumozaki Town
[Contact] Izumozaki Town Industrial Tourism Section TEL:0258-78-2291